It takes a lot of energy to power your muscles for an athletic competition. Your brain gets its energy almost exclusively from sugar in your bloodstream and your muscles don't contract effectively when your blood sugar runs low.
There is only enough sugar in your bloodstream to last three minutes, so to keep sugar levels from dropping, your liver releases sugar from its cells. But your liver stores only enough sugar to last 12 hours. Eating fills your liver with sugar. If you eat six hours before you compete, your liver will already have used up a major portion of its stored sugar, so you want to fill your liver with sugar as close to your event as possible and leave your stomach empty. That's two to three hours before competition.You don't need to eat sugar; your body converts any type food you eat to sugar for energy.
Protein helps your muscles recover faster after a hard workout. Weight lifters and other athletes often use protein supplements or special protein drinks, but they are no better than the protein found in food. Just eat a big meal with dairy products, fish, beans or other high-protein foods after your workout or game.
Athletes in training and active teens involved in sports may burn as many as 7500 calories a day. It's hard to eat that much food. You should eat huge amounts of the foods listed here to get the vitamins, minerals and phytochemicals your body needs, plus anything else - ice cream, cheese, pizza, steaks, chocolate bars, whatever you like. Remember, saturated fats and refined carbohydrates only cause problems when they are not burned for energy. People who burn 7500 calories a day need to eat everything in sight.
EAT LOTS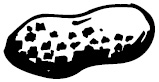 — plus whatever else you need to meet your calorie requirements.