For the last 60 years, doctors have told us that a diet high in saturated fats causes heart attacks. Newer studies show that eating lots of refined carbohydrates can also cause heart attacks.
You can lower cholesterol by replacing saturated fats with polyunsaturated fat and by restricting refined carbohydrates found in bakery products, pastas, and sugar-added foods. Many people think that it takes months for a cholesterol-lowering diet to work, but it actually takes only two weeks for diet changes to give you maximum cholesterol lowering.
A study of 75,000 women showed that those most likely to suffer a heart attack ate the most foods that cause the highest rise in blood sugar. The glycemic index measures how high a person's blood sugar rises after eating a certain food in comparison to blood sugar rise with sugar. High glycemic index foods include all those that have added sugar such as pastries, cakes, cookies and most soft drinks; those made from flour such as bakery products and pastas; fruit juices; root vegetables such as potatoes and beets; and fruits.
Other reports from Harvard School of Public Health show that a diet rich in plants lowers high blood pressure. It's called the DASH diet (Dietary Approaches to Stop Hypertension.) The same eating patterns lower cholesterol, help to control diabetes and cause weight loss in people who are overweight.
Your strategies for preventing heart attacks should include reducing your intake of added fats, particularly saturated and partially hydrogenated fats; and avoiding refined carbohydrates. Eat lots of vegetables, whole grains, beans, seeds and nuts. People who are also overweight or diabetic should eat fruits and root vegetables only in combination with other foods to slow the rise in blood sugar. See the section on Weight Loss if this applies to you.
EAT LOTS

LIMIT (FOR MANY PEOPLE)
— If overweight, eat fruits and root vegetables
only with meals.
—Avoid bread and other foods made flour or ground-up grains as much as possible
– use whole grains instead.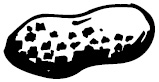 — Limit if you need to lose weight.